Bukhara Hotels
Welcome to Bukhara hotels reservation service. Bukhara-hotels.com provides convenient mean to book hotels in Bukhara. Review Bukhara hotels features, compare prices and book suitable for you hotel over our site in Internet.
In Bukhara you will find a lot of private hotels. Most of them are located in the old part of Bukhara close to the main historical ensemble Lyabi Khauz. Private Bukhara hotels are situated in Bukhara houses of one or two stores with typical four-corner yards. Usually such private hotels number 10-20 rooms. Travelers will please the oriental design typical for each boutique Bukhara hotel. These are B&B hotels, where breakfast is included and lunch and dinner can be cooked for guests on request. Also there are business hotels, located in the center of Bukhara. They are built in modern style and offer a wide range of amenities and services.
Featured Hotel in Bukhara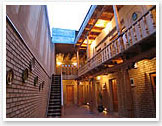 Amelia Boutique Hotel
Amelia Boutique Hotel
1, Bozor Hoja street, Bukhara, Uzbekistan
Located in the heart of Bukhara and within an inch of Lyabi Hauz complex, family run Bukhara hotel "Amelia" provides its guests comfortable accommodation and great service. Pleasant accommodations and friendly staff ensure you will have a comfortable stay with a plenty to see and do.
Deluxe Single 65 USD
Deluxe Double 85 USD